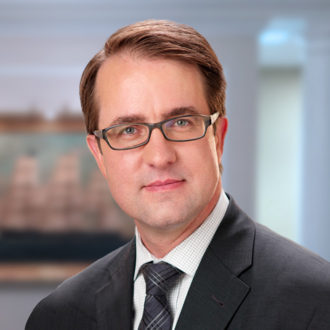 Wade Stevens
Assistant Vice President, Design
Wade Stevens is an Assistant Vice President – Design of GID Development Group and is based in GID's New York office. He has over 20 years of architecture and real estate experience in the design and development of mixed-use projects involving multifamily residential, office, retail, hotel and transportation uses. Mr. Stevens is responsible for design direction, planning, technical review, consultant coordination, and aspects of the construction process.
After his education and early professional years in Boston, Mr. Stevens has been working in the New York City real estate community since 1999, working on many high profile projects.  At Skidmore, Owings & Merrill he was responsible for Technical Architecture on projects around the world, from New York to the Middle East and Asia, programs from a supertall mixed-use tower to multi-building developments.  His years with Santiago Calatrava included an iconic supertall residential tower in Chicago, and focused on the World Trade Center Transportation Hub (PATH) in New York, destined to be one of the most urbanistically and architecturally significant buildings of the twentieth century.  At Pei Cobb Freed & Partners, Mr. Stevens was responsible for a multi-building multi-use high-tech incubator and a large corporate campus. At Perkins + Will in New York, he worked on varied program types, the most significant of which was the corporate headquarters for Time Warner in their own building on Columbus Circle.  Carlson provided Mr. Stevens the opportunity to hone his technical architecture skills in the environment of a design/build architecture and engineering firm specializing in turn-key mission-critical facilities for the financial services, telecom, internet, media and manufacturing industries.  At Kallmann McKinnell and Wood, he worked on a large office and lab complex for the U.S. Food and Drug Administration.  His earliest experience was on corporate and retail projects with ADD Inc and aquariums and mixed-use projects with Cambridge Seven Associates.
After years in the consulting business as a professional Architect, Mr. Stevens joined GID Development Group, charged with leveraging his architectural design and technical knowledge in the development process.
Mr. Stevens holds a B.S. in Architectural Design from the Massachusetts Institute of Technology and an M.Arch. from the Harvard Graduate School of Design.  Mr. Stevens is a New York State Registered Architect, a member of the American Institute of Architects, and holds a certificate from the National Council of Architectural Registration Boards (NCARB).