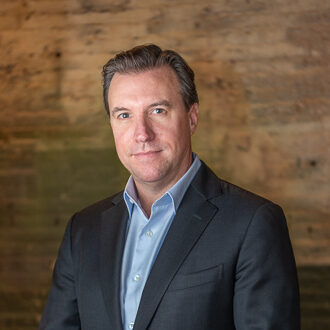 James E. Linsley
Executive Vice President and President, GID Development
James Linsley is the Executive Vice President and President of GID Development Group. He also serves on the Executive Committee and the Investment Committee of GID. He has 24 years of real estate experience and has been involved in all aspects of mixed-use real estate development involving residential, office, retail, hotel, entertainment, cultural, public spaces, parking, and infrastructure uses. Mr. Linsley is responsible for all facets of the GID Development Group business platform including strategic direction, organizational structure, planning, design, entitlements, financing, construction, marketing, sales, leasing, operation, and new deal origination.
Throughout his career, Mr. Linsley has been involved in a wide variety of mixed-use real estate development projects totaling approximately $20 billion in development value and 40 million gross square feet of uses across virtually all asset classes.  In his role as President of GID Development Group, Mr. Linsley is involved in more than 24 million square feet of development activity in a variety of luxury urban high-rise residential and mixed-use projects totaling $8 billion of development value and consisting of more than 11,000 residential units, 1 million square feet of retail, 1.2 million square feet of office, and 400 hotel rooms.  Prior to GID, Mr. Linsley worked with several of the nation's most high profile real estate organizations and was involved in projects totaling more than 15 million square feet upon full build out and an estimated development value in excess of $10 billion. He was previously a Senior Vice President with Related and during his 10 years with the company he was involved with mixed-use developments throughout the United States. Mr. Linsley worked from concept to completion on the development of Time Warner Center, an 80 story, $2 billion, 2.8 million square foot mixed-use project in New York City featuring 1 million square feet of office including the world headquarters for Time Warner, 201 luxury condominiums, a 249 room five-star Mandarin Oriental Hotel, 350,000 square feet of retail, restaurant, and entertainment uses, a 100,000 square foot and 1,800 seat Lincoln Center complex for concerts, entertainment, and cultural uses, and a 502 vehicle below grade parking garage. At the time of its construction, Time Warner Center was the largest private construction loan in U.S. history. Mr. Linsley was also involved in the $500 million, 800,000 square foot W South Beach Resort and Residences in Miami Beach featuring 408 condominium hotel residences operated as a W Hotel, which also includes a luxury spa, health club, two restaurants, three bars, multiple pools and cabanas, and a 700-car garage. Mr. Linsley also worked on the $3 billion, 80 acre Snowmass Resort in Snowmass, CO, a master-planned, mixed-use ski and mountain resort including multiple hotels, condominium residences, condominium-hotel units, fractional ownership units, retail and restaurant uses, conference center, spa facilities, a public aquatic center, underground parking, transit center, new roadways, public spaces, and infrastructure. Prior to his 10 years at Related, Mr. Linsley worked for Trump/New World Project Management (The Trump Organization and New World Development) on multiple buildings and the development of Riverside South, a $6 billion, 8.3 million square feet, nineteen building high-rise development located on 77 acres in New York City. At the time, Riverside South was the largest private development ever approved in New York City, comprised of 5,700 residential units, a 27-acre waterfront park with pier, new roadways, and extensive infrastructure improvements.
Mr. Linsley holds an MS in Real Estate Development and an MS in Urban Planning from Columbia University. He also holds a BA in Architecture and a BS in Civil Engineering from Lehigh University. He has been a member of the International Council of Shopping Centers, the Urban Land Institute, the Urban Development Mixed-Use Council of the Urban Land Institute, and The Congress for New Urbanism.