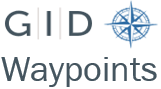 Transaction Volume Is Back… For Apartments and Industrial Properties: More Liquid Markets Separate this Recession from Those Past. 
Transaction markets in the aggregate have been quiet, with volumes down 30% in 2020 from year ago levels (which set a record at $438 Billion).1 The second and third quarters of 2020 were especially quiet, aligning with the initial fall out of the pandemic.  However, by the fourth quarter an impressive recovery was noted in the multifamily and industrial sectors where transaction volumes were generally in line with the same quarter a year ago.  The continued strength in the industrial sector, especially as online spending accelerated, increased the urgency to place capital here, while the resiliency of multifamily properties continued to pull in capital.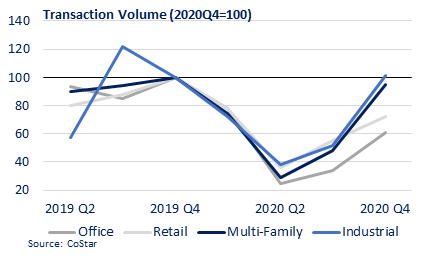 The strength in multifamily and industrial fundamentals contrasts with current weakness and heightened uncertainty about future demand within retail and office properties.  These concerns are not new, and institutional capital over the past few years has been actively rebalancing portfolios away from an existing overweight in retail and office and towards multifamily and industrial assets.  The Pandemic has increased the penalty on portfolio returns for these overweights and likely compressed the timeline that investors will seek to rebalance.  As a result, GID expects increasing capital flows to multifamily and industrial assets.   
Please contact research@gid.com for additional information.