As we continue to grow our portfolio across the country, we also are introducing even more opportunities for our team members to grow with us. This month, we're celebrating twelve team members who have assumed new leadership roles within their regions.
We are proud to announce the promotion of three new Regional Vice Presidents.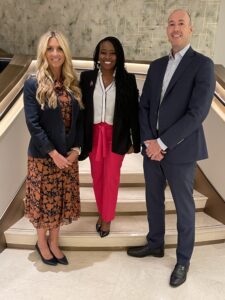 Telisha Jones has been promoted to Vice President of the Southeast Region based in Dallas. Ms. Jones came to Windsor with years of experience and has acted as the Houston Divisional Manager since 2017. After 4 years of hard work in Houston, Telisha's Windsor portfolio will be expanding to cover the Dallas sites as well. Telisha is an exceptional communicator and respected leader, and we know that she will shine in Dallas.
Beth VanDyke has been promoted to Vice President of the California Region. Ms. VanDyke began her Windsor Career as a Property Manager in 1999 in Cleveland and was soon promoted to a Divisional Manager role leading in Virginia, North Carolina, Maryland, and Pennsylvania. Beth relocated to Southern California in the fall of 2010 to assist with building the Southern California region. An active leader both within our company and our industry, she serves as a member of our ESG Committee, and she is a board member for the California Apartment Association in Los Angeles.
Chris Frank has been promoted to Vice President of the Florida Region. With 14 years of industry experience, Mr. Frank was joined the Windsor team in Florida as Divisional Manager, Mid-Atlantic Region. The Florida region is consistently among the best regions for ORA and Kingsley scores and steadily outperforms their submarket financially. Additionally, Mr. Frank led the implementation of Meet Elise at Windsor, freeing up our staff to serve their communities more effectively.
We are also happy to announce team members who are assuming new leadership roles in several of Windsor's service regions:
Ithamara Allison, promoted to Area Manager, South Florida
Nichole Brown, promoted to Divisional Manager, Atlanta
Trea Chafe, promoted to Area Manager, Southern California
Ken Jack, promoted to Area Maintenance Manager, Denver
Rachael Lamar, promoted to Area Manager, Denver
Judith McClain, promoted to Divisional Manager, Houston
Jessica Webster-White, promoted to Area Manager, Northern California
Joe Willard, joining Windsor as Area Maintenance Manager, Dallas
Our property management team is comprised of many outstanding, talented individuals who bring unique perspective and expertise to our operations. GID and Windsor are extremely proud of our first-class team and will continue to support their opportunities for career growth within the company.