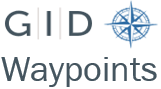 E-Commerce: Growth in Online Commerce is Setting Up Light Industrial Demand for Multi-Cycle Expansion
As growth in online spending shifts retail inventory from stores to warehouses, the resulting boost to industrial demand is not as simple as a one-for-one trade out of brick and mortar retail selling space for warehouse space.  Instead, as transactions shift online, the supply chain that supports each sale is evolving to accommodate ever faster delivery times, requiring more warehouse space than traditional in-store sales:  a study by Prologis found that E-commerce distribution uses upwards of three times more warehouse space than a traditional brick-and-mortar supply chain[1]. If recent space utilization patterns of e-commerce distributors hold, bullish growth in online spending is especially bullish for industrial demand.
E-commerce has been growing rapidly in the U.S., averaging greater than 10% annual growth since 2009 and trampling the average retail sales growth of 4% during the same period.  This has pushed online spending to more than double from 4.6% to 10.1% of retail sales[2]. Still U.S. adoption rates trail those seen in Europe and Asia, suggesting further upside in online spending is possible.  Demographics are also likely to aid growth in e-commerce: the tech savvy Millennial generation, which has a higher proclivity for online shopping than Gen X which preceded them, will dominate the prime spending cohort of 35-45-year-olds over the next 10 years and will likely help boost online spending.  GID believes this growth will drive industrial demand, especially light industrial, as it is arguably the least developed area of the e-commerce supply chain.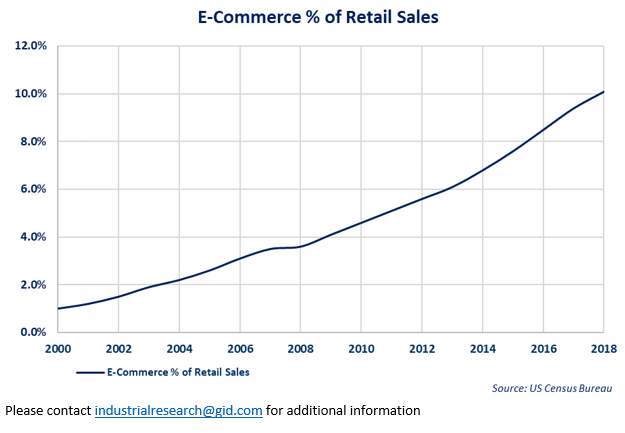 [1] Prologis Research Series: Unlocking Supply Chain Value
[2] US Census Bureau
PDF Copy_Industrial Demand Positioned for Multi-Cycle Growth